Update: May 25th, 2020
Dear Clients,
We thank all our clients for your patience and understanding as we navigate caring for your pets during these unprecedented times.   As many of you know, Gov. Gretchen Whitmer rescinded Executive Order 2020-34 with Executive Order 2020-96, allowing veterinarians to perform any procedures at Michigan veterinary hospitals. 
However, with this executive order, there are many measures we must take to protect our staff and our clientele. In addition, the size of our facility does not allow for the necessary 6-foot social distance that is essential to operate safely between staff and clients. For this reason and for the safety of our staff and clientele we will remain operating curbside until Phase 6 of reopening in Michigan.
Starting Monday, June 15th for clients that insist in being present with their pets in the building the following measures will have to be taken and we will evaluate each case individually (See Below). We are not able to have clients hold patients for us currently.
We strongly advise our senior clients and immunocompromised clients to take advantage of our curbside options.
Here are some of the measures we will have to implement if you need to come into the building:
All clients that enter the building must wear a face covering.  
Only one person per patient is allowed into the building.
The entrance to the building will be the door facing the Northside or Wing St. Exit is the designated door on the East side or Deer St.
When you enter, there will be arrows on the floor that will guide you were to stand.  
You are required to call ahead if picking medications or food, so we have everything ready.  Please give us 24 hours to complete all prescription refills and food orders.
If clients do not want to come into the building, if elderly or immunocompromised, we will offer the curbside option to our clients. Give us a call when you arrive in the parking lot, and we will pick your pet from the car.  
If you would like to be with your pet in the building, it is essential to keep a 6-foot distance between our staff and clients. Most of the procedures and exams will have to be done away from the client because our exam rooms are small. Technician and veterinarians will speak with you in the room. However, we will have to bring the pet to the treatment area to perform vaccines, blood draws, and any other procedures needed.
We will check out in the exam room.
Please know that because we are operating curbside the appointments are taking longer. We are doing everything possible to operate in an efficient manner. If you prefer, we also have a complimentary "drop-off option". What this means is that you can drop off your pet for the day and we can take care of any services that are due, and you can pick up at your convenience.
Thank you for your trust and confidence in us.
Cordially,
Dr. Vyvian Gorbea
---
Update March 31st, 2020
We are now offering Telemedicine Services, please read about our new services here.
---
Update March 20th, 2020
Dear Clients,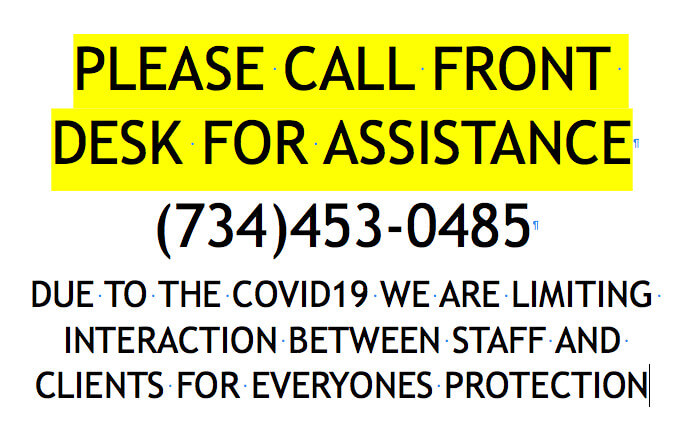 Due to concerns about the novel coronavirus and related disease (COVID-19), Plymouth Veterinary Hospital is taking additional precautionary measures within the hospital.
These precautionary measures are being done to keep our staff and doctors safe while continuing to provide essential patient care.
Valid MONDAY, MARCH 23 only Plymouth Veterinary Hospital staff will be allowed inside all areas of the hospital until further notice.
Veterinary hospital staff will meet clients in the parking lot; during this time, services may be limited, and non-essential appointments or surgeries may need to change. Hospital personnel will contact clients directly with information about any changes.
If you need any prescription medications or food for your pet, please give us a call ahead of time. We will request payment over the phone. When you arrive to hospital give us a call at 734-453-0485 and we will deliver the medications to you.
When you arrive at the hospital with your pet or if you need to pick up any medications or food:
Call us at 734-453-0485. The doors to the hospital will be closed.
Please remain in your vehicle with your animal.
Care professionals associated with your appointment will discuss your needs by phone when you arrive. At the end of the phone conversation, a care professional will come to the parking lot to bring your animal into the building for evaluation.
After the medical team evaluates your animal, you will receive a phone call to discuss recommendations and a plan moving forward.
Verbal consent for treatment and details surrounding financial estimates will be authorized via this phone call. Shortly thereafter, you will receive a phone call from a customer service representative to obtain payment over the phone. Credit card or Care Credit are preferred, but cash or check will also be accepted.
Updates will be given regularly via phone by your medical team if needed.
Once the care of your animal is complete, the discharge process will be discussed, and any remaining balance will be collected before the discharge of your animal from the hospital.
It is important to note that there have been no reported cases of COVID-19 within the veterinary hospital.
Thank you for your care and concern during this uncertain time.
Best Regards,
Dr. Vyvian Gorbea~ Owner~ Plymouth Veterinary Hospital, Inc.
Update: March 16th, 2020
The steady stream of news and information about the COVID-19 (coronavirus) has touched us all. At Plymouth Veterinary Hospital, the health, safety, and wellbeing of our patients, our staff, and our community is our number one priority.
Our hospital will remain open if we can offer a safe and healthy environment for you, your pets, and our hospital teams. We continue committed to delivering exceptional care to your pet, while doing our part to reduce the spread of COVID-19, including careful monitoring of the health and wellbeing of our staff.
Over the past few weeks, we have taken a series of precautionary steps at our hospital, including increased cleaning, disinfection, and access to hand sanitizer for our associates and clients.
In addition to the steps we're taking to protect everyone who works in and visits our hospital, we kindly ask that you take the following precautions before visiting our hospital:
If you are experiencing flu-like symptoms or are quarantined due to potential COVID-19 exposure, stay home and call your medical provider for advice on the next steps. 
If your pet does not require immediate veterinary care, keep them home, and avoid contact with other people and animals. We'll be happy to help you reschedule any appointments for your pet until you're well.
Appointments need to be scheduled in advance to not only reduce your wait time but also to enable us to better prepare for your pet's health needs before their arrival. Please give us a call at 734-655-0012.  
Limit the number of people who accompany each pet to the hospital.
If your pet requires emergency care, please call ahead so we can ensure your pet's needs can be met and advise you on next steps.
Don't hesitate to contact us with any questions. We're here for you, the pets you love, and the community we live in, and we'll continue to keep you informed. Thank you for being part of the Plymouth Veterinary Hospital family.