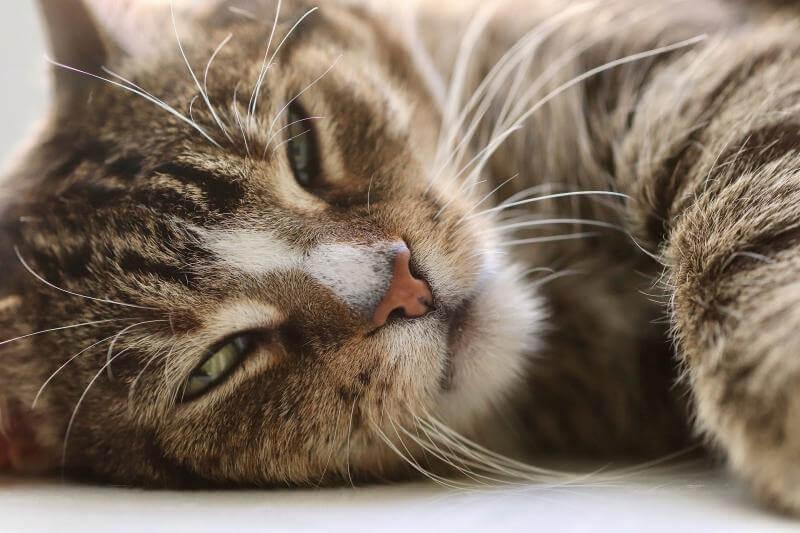 What is heartworm disease?
Heartworm disease is a serious and potentially fatal disease in pets in the United States and many other parts of the world. It is caused by worms (heartworms) that live in the heart, lungs, and associated blood vessels of affected pets, causing severe lung disease, heart failure, and damage to other organs in the body. Heartworm disease affects dogs, cats, and ferrets, but heartworms also live in other mammal species, including wolves, coyotes, foxes, sea lions, and—in rare instances—humans. Because wild species such as foxes and coyotes live in proximity to many urban areas, they are considered important carriers of the disease.
Heartworm disease in cats is very different from heartworm disease in dogs. The cat is an atypical host for heartworms, and most worms in cats do not survive to the adult stage. Cats with adult heartworms typically have just one to three worms, and many cats affected by heartworms have no adult worms. While this means heartworm disease often goes undiagnosed in cats, it's essential to understand that even immature worms cause real damage in the form of a condition is known as heartworm associated respiratory disease (HARD). Moreover, the medication used to treat heartworm infections in dogs cannot be used in cats, so prevention is the only means of protecting cats from the effects of heartworm disease.
How is heartworm disease transmitted from one pet to another?
Mosquito plays an essential role in the heartworm life cycle. Adult female heartworms living in an infected dog, fox, coyote, or wolf produce microscopic baby worms called microfilaria that circulate in the bloodstream. When a mosquito bites and takes a blood meal from an infected animal, it picks up these baby worms, which develop and mature into "infective stage" larvae over 10 to 14 days. Then, when the infected mosquito bites another dog, cat, or susceptible wild animal, the infective larvae are deposited onto the surface of the animal's skin and enter the new host through the mosquito's bite wound. Once inside a new host, it takes approximately 6 months for the larvae to mature into adult heartworms. Once mature, heartworms can live for 5 to 7 years in dogs and up to 2 or 3 years in cats. Because of the longevity of these worms, each mosquito season can lead to an increasing number of worms in an infected pet.
What are the signs of heartworm disease in cats?
Signs of heartworm disease in cats can be very subtle or very dramatic. Symptoms may include coughing, asthma-like attacks, periodic vomiting, lack of appetite, or weight loss. Occasionally an affected cat may have difficulty walking, experience fainting or seizures, or suffer from fluid accumulation in the abdomen. Unfortunately, the first sign in some cases is the sudden collapse of the cat or sudden death.
What do I need to know about heartworm testing?
Heartworm infection in cats is harder to detect than in dogs because cats are much less likely than dogs to have adult heartworms. The preferred method for screening cats includes the use of both an antigen and an antibody test (the "antibody" test detects exposure to heartworm larvae). Your veterinarian may also use x-rays or ultrasound to look for heartworm infection. Cats should be tested before being put on prevention and re-tested as the veterinarian deems appropriate to document continued exposure and risk. Because there is no approved treatment for heartworm infection in cats, prevention is critical.
What if my cat tests positive for heartworms?
Because a cat is not an ideal host for heartworms, some infections resolve on their own, although these infections can leave cats with respiratory system damage. Heartworms in the circulatory system also affect the cat's immune system and cause symptoms such as coughing, wheezing, and difficulty breathing. Heartworms in cats may even migrate to other parts of the body, such as the brain, eye and spinal cord. Severe complications such as blood clots in the lungs and lung inflammation can result when the adult worms die in the cat's body.
Here's what to expect if your cat tests positive for heartworm:
Diagnosis. While infected dogs may have 30 or more worms in their heart and lungs, cats usually have 6 or fewer—and may have just one or two. But while the severity of heartworm disease in dogs is related to the number of worms, in cats, only one or two worms can make a cat very ill. Diagnosis can be complicated, requiring a physical exam, an X-ray, a complete blood count, and several kinds of blood test. An ultrasound may also be performed.
Treatment. Unfortunately, there is no approved drug therapy for heartworm infection in cats, and the drug used to treat infections in dogs is not safe for cats. Nevertheless, cats with heartworm disease can often be helped with proper veterinary care. The goal is to stabilize your cat and determine a long-term management plan.
Monitor your cat. Heartworm-positive cats may experience spontaneous clearing of heartworms, but the damage they cause may be permanent. If your cat is not showing signs of respiratory distress, but worms have been detected in the lungs, chest X-rays every 6 to 12 months may be recommended. If mild symptoms are noted, small doses of prednisolone may be administered to help reduce inflammation.
Provide veterinary care. If the disease is severe, additional support may be necessary. Your veterinarian my recommend hospitalization to provide therapy, such as intravenous fluids, drugs to treat lung and heart symptoms, antibiotics, and general nursing care. In some cases, surgical removal of heartworms may be possible.
Maintain prevention. A cat that has developed heartworm disease has demonstrated that it is susceptible to heartworm infection, and both outdoor and indoor cats are at risk. It's essential to give your cat monthly heartworm preventives, which are available in both spot-on and pill form. Preventives keep new infections from developing if an infected mosquito bites your cat again.
From the American Heartworm Society website.