Plymouth Veterinary Hospital, Inc. Offers A Full-Service Veterinary Clinic
At Plymouth Veterinary Hospital, Inc., we believe that your pet is a part of the family, yours and ours. That is why we have made it our mission to provide comprehensive and compassionate veterinary care that is in the best interests of you and your furriest family member. If you are in the Plymouth area and are looking for a caring veterinary team to help make sure your pet maintains in good health, we are nearby and ready to help.
To learn more about the many services our veterinary clinic offers, or to schedule an appointment, please contact us or call us at (734) 453-0485
Emergencies Seen During Regular Hours
Accidents, injuries, and illnesses never take into account the time of day. While some situations can wait until the next morning or business day, others require immediate attention.
Our veterinary hospital has highly experienced, dedicated veterinarians and veterinary care support staff. Our animal hospital provides trauma and critical care for accidents, injuries, and illnesses of all types. Our team is equipped to manage medical care and help our clients through stressful and potentially life-threatening situations. We will work with our clients to make sure you have a thorough understanding of your pet's illness and what steps should be taken to provide the best care options for your pet's recovery.
If your pet is exhibiting any of the following symptoms during business hours call us immediately at (734) 453-0485. If we are closed call the emergency hospitals listed below.
Inability to breathe noisy respiration, blue tongue, gasping for breath.
Bleeding that won't stop: Apply pressure and come now!
Inability to urinate or appears constipated
Inability to deliver puppies or kittens: keeps trying or has stopped trying
Severe pain: continuous with no relief.
Vomiting, diarrhea: continuous or with the appearance of blood
Loss of balance or consciousness: includes tremors, coma, staggering, blindness, fainting.
Severe itching: continuous scratching, biting, self-mutilation.
Penetrating wounds: any place, but especially the chest or abdomen.
Poisoning: bring the container or commercial name and chemical name.
Injury: constant pain and total lameness.
Hit by car: may include trauma and bleeding.
Bloat: abnormal distention of the abdomen and difficulty breathing.
If your pet has any of the following symptoms, it is safe to wait OVERNIGHT:
Ear problems/itching: head shaking and ear discharge. mild to moderate itching; no skin damage; no bleeding.
Loss of appetite: skipped one main meal, but no other signs of illness.
Thirst/urination: excessive drinking or elimination of urine with no blood, no pain, no straining or discomfort, or bloody appearance to the urine.
Lameness: little or no pain; no discomfort in walking; not continuous.
Worms in bowel movement: no blood in bowel movement; no pain or discomfort; no vomiting.
Most skin problems: scratching, itching, fleas, ticks.
After business hours contact our local emergency clinics at: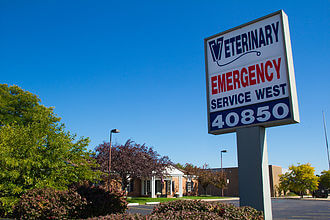 Veterinary Emergency Services
734-207-8500
40850 Ann Arbor Road
Plymouth, MI 48170
Click here for the VES-West website
---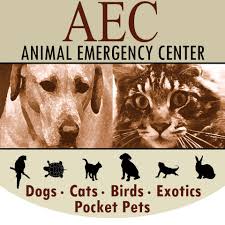 Animal Emergency Center
248-348-1788
24360 Novi Road
Novi, MI 48375
Click here for AEC-Novi website
---


Oakland Veterinary Referral Services
248-334-6877
1400 South Telegraph Road
Bloomfield Hills, MI 48302
---


Blue Pearl Pet Hospital
248-354-6640
29080 Inkster Road
Southfield, MI 48034